Veterinarians launch a carbon calculator adapted to the profession – News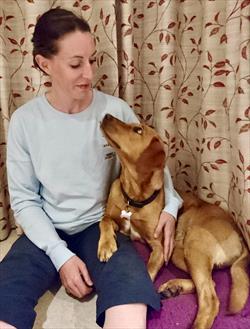 Dr. Gudrun Ravetz
Photo courtesy of Vet Sustain
Dr Gudrun Ravetz, pictured with her dog Tess, leads Vet Sustain, a group of volunteers who have launched a carbon footprint calculator for the veterinary profession. Ravetz is a past president of the British Veterinary Association, one of several professional organizations endorsing the new tool.
In what could be a world first, vets in the UK have launched a carbon footprint calculator tailored to the environmental impacts of veterinary practice.
The Veterinary Carbon Calculator made its debut this week at the London Vet Show by Vet Sustain, a voluntary organization founded in 2019 by a group of environmentally conscious practitioners.
It allows companies to estimate the number of metric tons of carbon dioxide they generate over a given period by entering data for a range of factors, such as energy consumption, transportation and waste. Vet Sustain charges users up to £180 ($214) per aggregate calculation to cover its costs.
The calculator was developed in partnership with Investors in the Environment (IIE), an environmental accreditation service run by a charity known as PECT and set up in 1993 by the English city of Peterborough for environmental projects. The Carbon Calculator has been endorsed by major UK professional associations, including the British Veterinary Association.
After around 10 months of development, the tool is currently only suitable for UK practice as it uses local measurements, particularly for energy consumption. Vet Sustain, however, wants the calculator to be suitable for international use, perhaps through partnerships with other organizations that might adopt its core functionality.
"Our industry has a huge impact on the environment, both in terms of the carbon we use to run veterinary practices and in terms of the amount our customers use to care for their animals," said the president of Vet Sustain, Dr. Gudrun Ravetz, in an interview. . "But if we can't measure it, it's hard to hold ourselves accountable and improve."
Tools that measure the carbon footprint of individuals, households or businesses are not new. Free calculators are available online as a tool for business offered by the CoolClimate Network, a partnership of the University of California at Berkeley, with governmental, commercial and non-governmental organizations.
More sophisticated tools are also available, usually for larger companies, from private companies that tout high-precision measurements that meet global sustainability reporting standards.
The new calculator is different in that it offers a relatively inexpensive and simple way to assess the carbon footprint of a veterinary practice that takes into account unique elements of veterinary medicine, according to April Sotomayor, chief executive and senior consultant at IIE.
"We have added here parameters specific to waste streams and anesthetic gases used in veterinary practice," Sotomayor said. "And one of the main goals of this particular calculator, because it's aimed at non-experts, is trying to simplify the technical side of carbon calculation and get practices to understand their carbon hotspots."
Ravetz said Vet Sustain was inspired to create the calculator in part because the group couldn't find existing vet-specific tools. "Even when we looked at the GP ones for human medicine, we found that they didn't use the same anesthetic gases. The waste was different," she said. "If you look at production animal practices, there's a lot of driving; there's a lot of ambulatory work. So there are nuances for a veterinary practice that weren't factored into the generic carbon calculators. ."
Vet Sustain and IIE have developed educational materials to help users reduce their carbon footprint year over year. The group also hopes to collect enough data from users to establish benchmarks that firms can consider when setting their goals.
The launch of the tool comes as world leaders and activists gathered at COP27, the United Nations meeting on climate change in Egypt, try to draw up plans to reduce greenhouse gas emissions in the global scale. The conference, which began on November 6, was due to end today, but will likely last for additional hours as participants struggle to find common ground and approve meaningful agreements.
The impact of the health care sector on the environment, including veterinary medicine, does not usually attract as much attention as sectors such as energy, transport and agriculture.
However, as the potential effects of climate change become more apparent, more attention is being paid to how doctors can reduce their carbon footprint. For example, measures to limit the use of inhaled anesthetics, which are disproportionately potent greenhouse gases, have been endorsed by professional associations, educational institutions and veterinary practice owners, including Mars Inc. ., The biggest in the world.
table of pollutants
Image courtesy of Vet Sustain
The elements that contribute to the carbon footprint of an English veterinary practice in 2021 are presented in a pie chart which has been generated by an online measurement tool adapted to the profession. The figures are expressed in carbon dioxide equivalents in metric tons.
Yet the issue of climate change continues to divide the veterinary profession as elsewhere. On the discussion forums of the Veterinary Information Network, an online community for the profession and parent of the VIN News Service, some practitioners endorse the concern to reduce their carbon footprint. Others note that the veterinary sector's contribution to global carbon emissions is relatively small compared to others, such as human medicine.
There is some evidence to suggest that a substantial proportion of vets are concerned about the issue, at least in the UK. A BVA survey of 430 UK practitioners last year found that 97% rated environmental sustainability as 'fairly important' or 'very important'. Almost three-quarters (73%) said veterinary professionals are very (26%) or somewhat (47%) responsible for prioritizing and leading environmental health issues.
Ravetz, former president of the BVA, argues that veterinarians can have a big impact on emissions, not just through day-to-day practice management, but the influence they have on pet owners.
"We know it's not just food production that creates emissions. We also know that our pets have huge paw prints," she said. "We have an advocacy role to impact what pet owners do. But to influence them, we need to get our own house in order."
VIN News Service Commentaries are opinion pieces featuring ideas, personal experiences and/or views on current issues by members of the veterinary community. To submit a comment for review, email [email protected]